Rules
Rules to follow
when bringing in your pet
It is very important that your dog  arrive with  completely dry fur before grooming,  even if it is raining or snowing outside. In addition, your dog must be "well" ventilated, i.e. the dog must not have dirt and be angry before arrival, as we do not get the opportunity finish in planned time. Don't take too long walks as the dog uses a lot of energy while standing on the table and gets cut.
Note: We do not take females during maturity as this is stressing the male dogs to come later in the day. I reserve the right to send the dog home again! If a female is discovered during the process, the surcharge will apply!
Note: We do NOT make larger filter grooming (matted fur) - As this hurts the dog!
Dog
hygiene
Dogs that visit the salon MUST, especially in the months of April-October, be treated against fleas - as I do not want to groom dogs that have fleas. If your dog is not treated, you must be 100% sure it does not have fleas when it arrives.Should the accident occur, an additional fee will be charged
Accidents can happen if: The pet has mated fur - The pet is restless on the table - The pe tries to bite the scissors/machine - The pet is aggresive/insecure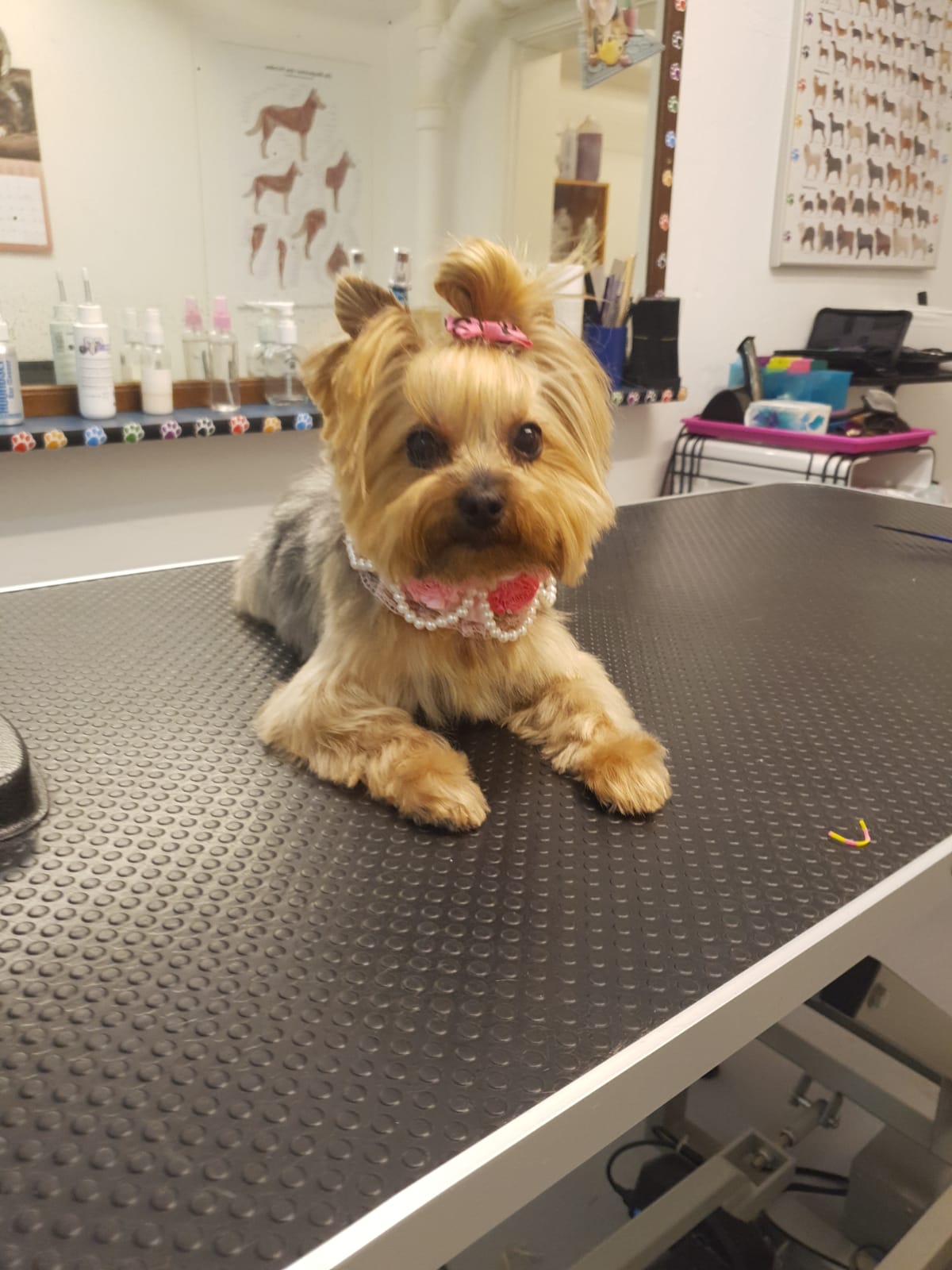 Important information
Dear customers hope you are sweet and read through our Rules and Important Information sections.
Responsability and health insurance

When your dog is delivered for clipping in the salon, it is the owner's responsibility if an accident occur, which is, however, extremely rare. If your dog is health insured, the insurance will cover - but still check with your insurance company. The dog's liability insurance is used in cases where the dog bites the groomer, or destroys things in the salon.

Schedule Adherence

It is very important to  come at the agreed times , both for arrival and pick-up. If you arrive late, there is less time to cut the dog than planned and therefore cannot reach a full haircut before the next dog arrives. Many dogs get stressed or dislike other dogs
Services
Full grooming:
Cut / Bath / Hair / Nail / Ear
Small breeds
Yorkshire Terrier · Chihuahua
Papillon · Mini Poodle
Dachshund
Aproximately 650/800 Dkk , time for grooming is about (1½ hours).
Small and Medium breeds
Jack Russell Terrier · Coton de Tulear
Bichon Maltese · Bichon Frise
Shih Tzu
Aproximately 850/900 Dkk , time for grooming is about (1½-2 hours).
Large breeds
Pomerinian · Cavalier King
Cocker Spaniels · Cavapoo
Cockapoo · Shiba Inu
Aproximately 950/1100 Dkk, time for grooming is about (2-2½ hours).
Pictures
Our happy furry
customers
Check out our pictures with a few of the dogs that visited our salon.
Pricing
Check our
Pricing
Bellow you can find more details about our prices and services.
F.A.Q
Frequently Asked
Questions
Please read the bellow information to find out the most common questions and answers.
Do you take females during maturity?

The answer is NO, females during maturity leave their scent and other male dogs that will come later in the day will get stressed and hard to handle.If during the grooming is discovered that the female is mature a 250 kr fee will be charged

What happens if I am delayed?

If you know you are unable to come pick on the dog at the agreed time , a fee of 50kr per 15 minutes late pickup will be charged. This is why is VERY IMPORTANT to deliver and pick up the dogs exactly at the agreed time.

Do you do large filter grooming(matted fur)?

The answer is NO, we care about the dog that come to our salon and this hurts the dog.

What if I want to cancel my appointment?

The cancelation of an appointment must be done via PHONE or TEXT/SMS. If the cancelation is done by SMS , you must receive a reply from us or the cancelation is not valid. The cancelation must be done 24h before the appointment in order for us to be able to fill our scheduler with another dog.

What if I forget to show up or cancel in the same day?

Because cases like this are encountered very often an extra charge will apply at the next visit depending on how busy our scheduler is.

What should I do before I bring in my dog?

Carefully read our "Rules" on the start of the website , it will help you and your dog have a good experience when coming to our salon.
Contact
Contact Us
Bellow you will find the way to reach us and our location.
Our Addresses
Retortvej 62 ,2500 København, Denmark
Jernbanegade 15C, 4690 Haslev Denmark
Email Us
snoopydogsalon@gmail.com
Call Us
+45 2811 0040
+45 2811 6061